Welcome to my new blog, where I will be writing articles, notes, and other anecdotes on my music career. I will try to keep adding new articles weekly. Hopeyfully there will be enough stuff happening in my career to keep this blog going!

This album, Charlie Don't Surf, is long time coming and years in the making. I started the ambition to make this album in 2008 when I was temporarily living in my parent's old farm house. At the time I only had a mixing board, a PC, and 8-track recording machine, and a program called Ableton Live. I had no real know-how or real knowledge of any of this process, just a drive, a dream and goal to produce some of the many songs I had been writing over the years. I started by creating drum patterns, counted out to exact length, and started recording into this ancient 8-track from my PC, playing along with my acoustic guitar. The sound was horrible, the mix was terrible, and the process was lengthy and cumbersome to say the least. I knew at this point, I did not have the right equipment to make a professionally sound recording, and started to purchase what I really needed.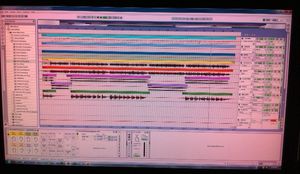 I ended up buying new PC, a new version of the software, a condenser microphone, and a firewire recording box a year or so later. I was finally able to start really diving into this project. I finally started to learn how to use the software and get decent sounding recordings. I spent countless hours on nights, days, and weekends pounding out guitar riffs, bass licks, and vocal harmonies to many of these songs. After a full year of multi-track recording, I thought I had a pretty good sounding production of this album, but I still was nowhere near what professionally recordings sound like. I was amateur. I was novice. I was lacking in the education these sound engineers spent years in school studying. And I knew it. At one point, I actually thought I was done and started letting very close friends download and listen to the album. My focus group, as I called it, provided the feedback I didn't want to hear, but needed to hear. It was terrible. The songs were great, but the sound quality was lacking that professional edge. I needed help.
I sought the help of a highly recommended sound engineer, Marshall Deasy. Marshall ran his own studio downtown Harrisburg for years called Stress Free Studios and was currently working with Progressive Enterprises Studios. I had met Marshall a few times and knew of him through other musicians and friends, but no idea how to really contact him. A chance encounter during a random happy hour at the Mechanicsburg GingerBread Man broke the ice and Marshall stepped in to help. He saw the quality of the songwriting and wanted to help me make this recording sound the best it possibly could. He started with providing notes, advice and settings to help me try and narrow down where I needed to be on the final mix. I still wasn't getting where I needed to be. Marshall started spending time with me at my place showing me the steps that are needed to really make a mix fit in the pocket. He taught me how not to overload and saturate the sound, how to set compressors, EQs and reverbs to enhance the vocals, not deplete them, and how to use stereo panning to really isolate and separate each instrument and voice, yet still keep everything sounding uniform and together. After almost a year of this process, he finally had a mix he could work with during the mastering process. After few months in and out of the studio, using high quality compressors, limiters, and EQs, this project has finally been completed. It finally sounds reproducable, radio-friendly, and overall great.
So I've basically spent about 4 years in the self-taught college of sound engineering and song production. I went through a 1-year crash course in the Marshall Deasy School of Sound Engineering. I now feel confident and secure now moving forward with future recordings. I have started my own record company, Hoke Street Records, in hopes to help other artists in the future who strive to record and produce their own songs. I will hopefully be buying a house in 2013 and building a studio to be able to offer this service and to produce future Wes Hoke albums. It has been a long road to get to where I am now, but I am happy and thrilled to be able to release this album to the public. I hope it sells well, plays on the radio, and overall gets my music out there and people enjoy it.
A huge thanks to Marshall for the knowledge and expertise he has contributed to this album. Kudos to Dawn McLaren for awesome photography for this CD, my website and social media sites. A huge shout out to my father for always pushing me to better my music career. Big mention for my Root 74 bandmates, Jamie Aston and Mike Springer for always being a solid rhythm section during live performances. A huge hug to my girlfriend Kelly Stewart, for believing in me and putting up with the noise in house and having to listen to the same songs over and over again. Thank you to all my family, friends and fans who support my songwriting and music career. Without all that support and love, this would all be meaningless.
- Wes